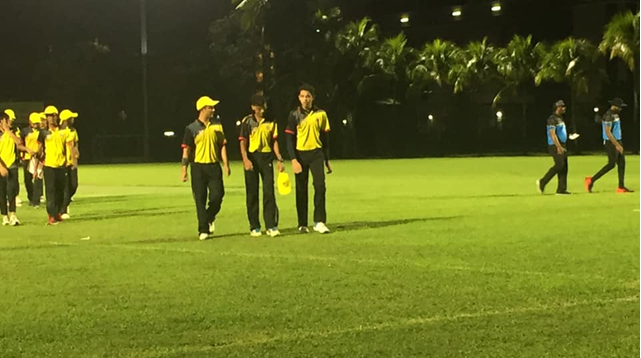 EMERGING PLAYER SERIES 2019
GROUP STAGE
MATCH 6
SG CRIMSONS vs SG STARS
The Emerging Player Series resumed, after the last two days being washed out. Both teams were eager to get on the park, especially SG Stars who were playing their last game having already eliminated from making the finals playoff.
SG Crimsons won the toss and elected to bat. They wanted to prolong their superior position in this league, although they had already qualified for the final. Once again, Girin Gune led from the front with 28 off 33 balls and Vihaan Maheswari 21 off 36 balls.
SG Stars had all to play for as a win here could salvage them some pride. They found it difficult against the top three for SG Crimsons but the spinners put a squeeze on the scoring and got crucial breakthroughs. Pranav Maheshwari getting 3 for 13 from 4 overs and restricting the SG Crimsons at 90 for 5 in 20 overs.
SG Stars have really struggled with the bat throughout this tournament and failed to get substantial partnerships in chasing the meagre total set by the Crimsons.Their lower order in the shape of Panashe Nhenga 21 off 26 balls and Pranav Maheshwari 22 off 24 balls brought them to a respectable close.
SG Crimsons on the other hand, began their defense of a low score professionally, sticking to their game plan and executing it efficiently. Aryaveer Chaudhary with 2 for 14 from 4 overs and Neil Karnik 2 for 20 from 4 overs. This meant that the chase for the opposition was always a daunting task.
Although finding himself on the losing side, Player of the Match was Pranav Maheshwari of SG Stars playing his first match of the Emerging Player Series for his exceptional all- round performance!
SG Crimsons winning by 10 runs and qualifying for the finals playoff to be played against SG Crescents on the 1st of Dec at 6.30pm.