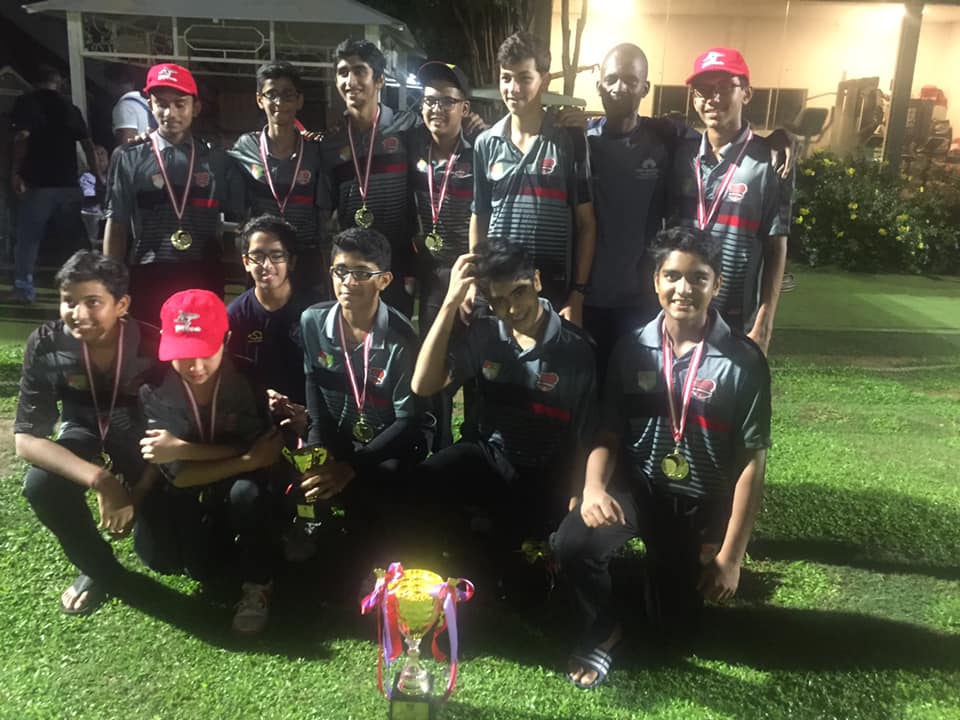 EMERGING PLAYER SERIES 2019
GRAND FINAL
SG CRIMSONS vs SG CRESCENTS
The Emerging Player Series reached the climax as the two best teams were prepared to battle it out in the final encounter!
SG Crescents won the toss and elected to bat first. They had a positive approach, attacking from the first ball and looking to score. However, struggled to increase the run rate and score boundaries. Aaryan Modi with 13 off 22 balls being the only innings of note for the team in orange.
SG Crimsons, who were the only undefeated team of the tournament were keen to finish off in style and secure the trophy. Their bowlers did not disappoint, as they got early inroads and continued their momentum. Aaryan Menon with 2 for 10 in 3 overs.
At the 10 over mark, when SG Crescents were 33 for 2, rain intervened and delayed the match for about an hour, the match was reduced to 13 overs. This was an advantage for the bowling side. SG Crescents had 3 overs to get a fighting score, only managing a DLS target of 58.
SG Crimsons kept their intensity high in their chase with aggressive hitting and prevented the opponents from settling down. A slight change to their opening partnership worked well. Vihaan Maheswari guiding the team home with 21 not out off 24 balls.
SG Crescents let themselves down in the field, with misfields, dropped catches and missed run outs, which you cannot afford in a short format game and could have made a difference. Left arm finger spinner, Naman Satija doing his best for the Crescents with 2 for 6 in 3 overs.
The Player of the Match was Vihaan Maheshwari for well paced innings which saw the Crimsons through to the title.
SG Crimsons won by 8 wickets and crowned champions of the Emerging Player Series 2019!.
Other awards were won by the following players.
Best Batsman: Girin Gune (SG Crimsons) 92 runs in 4 matches
Best Bowler: Aryaveer Chaudhary (SG Crimsons) for 7 wickets in 4 matches
Player of the Tournament: Hariharan Ganesh (SG Stars)
The youngest players at the tournament at just 11 years old who bowled and fielded beyond his years and took 3 wickets at an economy rate of 4.6 run off 3 matches.