SG U19 SELECT PLAYED SCC SELECT TODAY @ SCC as part of their preparations for the upcoming U19 men's WC Qualifiers in Oman in September 2022.
SG U-19 SELECT defended the 194 till the 49.5 over. SCC SELECT won in a nail-biting thriller by 1 wkt.
Great experience for the SG U19 SELECT Team.
Batting
Abhyuday 61 off 103
Adwitya 23 off 26
Thiyanesh 22 off 16
Suryansh 13 off 5
Bowling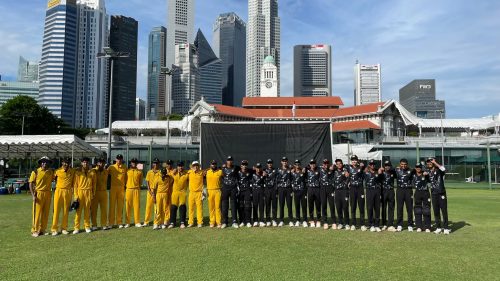 Aryaveer: 10 overs 29 runs 3 wickets
Adwitya: 9.5 overs 46 runs 0 wickets
Jeevan: 8 overs 37 runs 2 wickets
Thiyanesh: 8 overs 14 runs 1 wicket
Vihaan H: 9 overs 40 runs 3 wickets
#TeamSingapore #u19cricketwc