Rising Star – A Stroke full Century (122) by Sidhanth Srikanth
the SCA MEDIA RELEASE skj 30/10/2022
A century of impact; stroked by Sidhanth Srikanth for Singapore U19s Vs Qatar in their curtain raiser.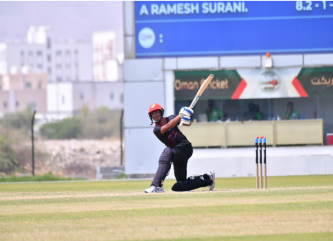 Scoring 1st century in ICC Under 19 tournament for his country; 'Sid' as he is affectionately known by his mates and coaches, stroked his inns and name in Singapore cricket history.
Sidhanth Srikanth is a homegrown player from Singapore. He has been a long-time student of SCA academy and has honed his skills under the tutelage of many of our coaches such as U19 National Coach and Head of SNCA (Singapore National Cricket Academy) Coach Shoib Razak.
Having started his cricketing journey in the nets at SCA Academy (SNCA), it has been a long road for Srikanth. But with the constant support of peers and mentors he has prospered and helped team Singapore reach their first win in the Asia-Pacific ICC U19 Division 2 World Cup QUALIFIERS played presently in Oman under testing conditions.
Srikanth said" I just tried following the plan given to us by our coaches. Our mission was to play long and keep wickets in hand for the last 10-15 overs, so I stuck to trying to make partnerships with my fellow teammates and bat as long as possible."
"Due to the fact we were better acclimatized to the conditions in Oman, I felt our team was able to better apply their skills on such types of wickets. I'm very proud of our bowling effort as well, who were able to reign back a strong start from the Qatari batsmen and dominate even on a wicket which has very little assistance for bowlers.
It will be amazing if we can carry this momentum with us into the next couple of games as well and play to our potential all the way through the tournament."